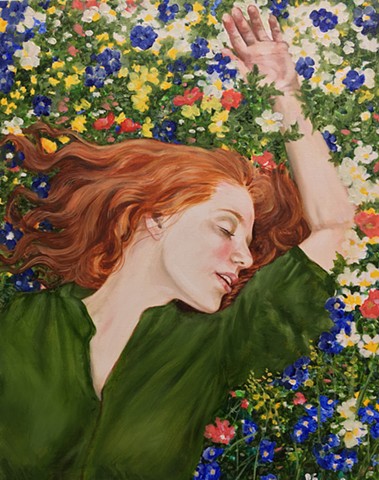 Forget Me Not, from the series: Spring can really hang you up the most.
oil on canvas
20 x 16 inches
2019
Throughout winter we survive with hope for the warming and an expectation of a restart in Spring, but as the poet T.S. Eliot wrote " April is the cruelest month, breeding. lilacs out of the dead land, mixing. memory and desire, stirring. dull roots with spring rain."
Our desires and our memories are taunted by the bird song and the fleeting beauty of youth and new blossoms. This exquisite bitter sweetness is the inspiration for this new series, "Spring can really hang you up the most". Touching on my own deepest memories of childhood laying among the flower fields and day dreaming with the first stirrings of earth underneath my back…. a girl's desires for a whole life can be dreamt by her in those early days of Spring.
- Rene Lynch, 2019